Sandown Workshop Ticket 2019
This exclusive day-long workshop, hosted by Stephanie Weightman and Nancy Watt  includes everything you need to create a number of craft projects and is ideal for all skill levels. So if you are an experienced crafter or you've only just started, there are projects that you can either follow step by step or add your own personal touch to, with craft helpers on-hand to help you along when needed.
The workshop gives you the chance to meet like-minded people, make new friends, gain inspiration, create beautiful projects to take home, dine on tea and biscuits with your new friends and much more!
All the project materials you need will be provided, as well as a delicious lunch and refreshments for those well-deserved breaks after all that hard work.
Pre-booking is essential, but you are guaranteed to have a great day, learn lots of new techniques and make new friends. The Workshop ticket also gets you into the show on both days at no extra charge and covers all equipment and refreshments during the workshop, as well as a selection of craft goodies to take home!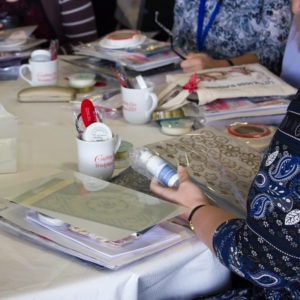 The workshop requires advance booking so please ensure you purchase your ticket as a limited number of places are available. Please select your lunch options below, adding the guest name for each attendee – if booking for multiple guests, you will need to add tickets one-by-one, and please make sure any options are correct before checking out. If you have any special dietary requirements not covered, please select "Other" and we'll contact you closer to the show to confirm.
Please Note:
Our 2019 workshop projects and goodies at Sandown in January and Doncaster in July will be the same.
We will contact you shortly before the show to arrange any special requirements, including dietary and table reservations.
Venue: Sandown Park Racecourse, Esher, Surrey, KT10 9AJ
Dates: Friday 25th January 2019 (10am-4pm)
Price: £89.99