Crafting Live Doncaster 10th Anniversary!
We are delighted to announce as it is the 10th Anniversary we have some special treats in store to ensure Doncaster Crafting Live is the show of the year!
Nancy Watt is creating a special limited edition 10th Anniversary collectors edition Tattered lace magazine. Available at the show. Nancy will be available to sign your copy over the weekend.
Mel Heaton is putting together a special selection of Ink Lily pens that she will be using on her demonstration on the Tattered lace stand. Available to buy at the show
Mister Softee UK will be outside the racecourse with his range of bespoke and delicious ice creams so if you fancy a break from shopping to enjoy the sunshine why buy yourself a ice cream. We have asked Stephanie and Nancy to come up with their favourite flavours so watch this space, you could be tucking into a Nancy special! PHOTO OF CHEEKY NANCY
Why not join us for an after the show drink on Saturday we will be opening the bar in the foyer from 5pm till 6pm for customers, celebrities and exhibitors to mingle and chat before heading home for the evening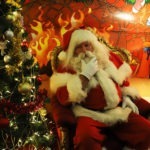 If you came to Peterborough last year you will have seen Santa made a special appearance to see how many of our crafters had been naughty or nice last year. He was very surprised! Well because Santa had such a good time he's taking a unprecedented break from his Summer holidays to join us in Doncaster, so drop in to see him in his TIKI bar in the foyer and collect your free entrance gift if you have pre booked your tickets.
Lots more to be confirmed!
---
Find out more about Crafting Live Doncaster Buy your tickets now!