Belfast Masterclasses
Various craft experts will be running masterclass workshop sessions on their stands, giving you lots of education and inspiration along the way, allowing you to take your finished project home with you. Book yours each day from 10am when the show opens on their stand, except Screen Sensation which can be booked on the Make & Take booking point in the show.
Screen Sensation
Times: 10.30am, 11.30am, 1.30pm, 2.30pm, (Thurs & Fri only: 3.30pm)
Cost: £44.99
Stand:C40
Join the Screen Sensation team at our Crafting Live stand for a screen printing course and see what all the buzz is about! In this course, you will unbox your kit, learn how to prepare your supplies, print your first image, and learn about cleaning and storage.
We will also discuss some tips and tricks that you can use to make exciting projects including foiling, glitter, multi-colour prints, repeating patterns, and much more!
Each masterclass participant will receive:
1 Screen Sensation Starter Kit
1 specially selected screen
1 pot of Screen Sensation ink
1 roll of Screen Sensation Fixing Tape
TOTAL RETAIL VALUE OVER £125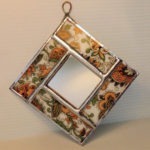 Glass Garden Studio
Times: 10.30am, 11.30am, 12.30pm, 1.30pm, 2.30pm, 3.30pm*
Cost: £10 / £20*
Stand:D10
Create an amazing Stained Glass Sun Catcher – no experience necessary and you will learn the basic art of Stained Glass Copper Foiling. In this workshop you will explore the possibilities of working with stained glass and at the end you will take home your own glass Sun Catcher. This year, for the first time, we will be offering you the opportunity to make your own string of Glass Bunting!
* The 15.30 class will be Stained Glass Copper Foiled Glass Bunting and cost £20.