Belfast Make & Takes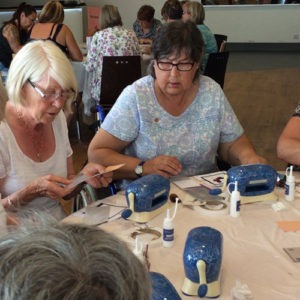 Join some of your favourite celebrity crafters for FREE Make & Takes at Crafting Live Sandown. Prebooking on the day is essential, as places are extremely limited. Book yours each day from 10am when the show opens. Initially limited to one per guest until 12pm, depending on availability.
* Please note there is a £44.99 charge for our Screen Sensation Make & Take, but not only do you go away with your finished project, you also get £100 of Screen Sensation goodies!
Guest
Times
Tattered Lace
10.30am, 11.15am, 12pm, 1.15pm, 2pm, 2.45pm, 3.30pm, (Thurs & Fri only: 4.15pm)
Parchment Lace
10.30am, 11.15am, 12pm, 1.15pm, 2pm, 2.45pm, 3.30pm, (Thurs & Fri only: 4.15pm)
Rare Earth
10.30am, 11.15am, 12pm, 1.15pm, 2pm, 2.45pm, 3.30pm, (Thurs & Fri only: 4.15pm)
Screen Sensation (£44.99*)
10.30am, 11.15am, 12pm, 1.15pm, 2pm, 2.45pm, 3.30pm, (Thurs & Fri only: 4.15pm)
Brother ScanNCut & Embroidery
10.30am, 12pm, 2pm, (Thurs & Fri only: 3.30pm)
Crafty Devils
(in association with Tonic Studios)
10.30am, 11.15am, 12pm, 1.15pm, 2pm, 2.45pm, 3.30pm, (Thurs & Fri only: 4.15pm)
Pinflair
10.30am, 11.15am, 12pm, 1.15pm, 2pm, 2.45pm, 3.30pm, (Thurs & Fri only: 4.15pm)
Sewing Clinic with Debbie Shore
10.30am, 12pm, 2pm, (Thurs & Fri only: 3.30pm)